Remembering Oak: A Cautionary Message About Backyard Breeding
At Keshet Kennels/Rescue, we always take advantage of opportunities to remember the dogs we have lost. Each and every dog that is taken into our care becomes a part of Keshet, no matter how brief their stay.  Today, February 24, we remember the passing of Oak, a Mastiff/Rottweiler X. Oak passed away exactly one year ago from complications that, ultimately, resulted from poor body composition and a genetic predisposition to high grade hip dysplasia. Oak and littermate, Aero, were both born with severe muscular-skeletal problems that affected their whole body, especially their back end. Both dogs were given only 3 short years to live based on their physical condition. In telling Oak and Aero's story, we hope to pass along a cautionary message to anyone involved with or buying from backyard breeders.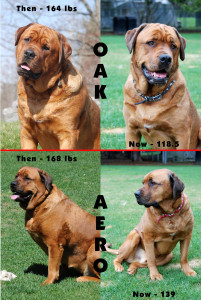 In February of last year, Oak suffered an unfortunate accident. A fateful misjudgment of footing on ice caused a broken pelvis and Oak succumbed to complications that resulted from his untimely mishap. It is not uncommon for dogs of all ages to make full recoveries after breaking their pelvis. However, due to Oak's poor muscular and skeletal composition, recovery would have been lengthy and arduous. On top of that, the fragile state of his bones meant that he was in a great deal of pain and the risk of re-injury would always be very high. Oak's brother, Aero, has also suffered because of his poor genetic makeup. A few years ago he tore the ACL in his left leg because he was overcompensating for his often sore right hip. Originally, it was believed that Aero was the worse off of the two boys. However, once they started to develop it was clear that Oak's back end was deteriorating at a much faster rate than Aero's. Both Oak and Aero had problems that started off small but with time, and age, they developed into much bigger ones. It is for this reason that we want to warn people about improper breeding practices and the importance of getting dogs with a sound genetic history.
We believe that the breeding of healthy, well-adjusted puppies starts long before the pups are born and is a responsibility not to be entered into lightly. Responsible breeders and rescues invest a great deal of time and money to ensure the pet you buy/adopt is healthy. Things like genetic screening, health checks, vaccinations, and socialization are all important aspects of breeding. That is not to say that all backyard breeders are reckless, profit-driven puppy producers. There are some very responsible hobby breeders out there. However, the pet population has reached a critical level and in many cases, the demand for dogs is much lower than the number of dogs available to good homes. In fact, backyard breeding has contributed to tremendous overpopulation which means thousands of homeless, sick and poorly behaved animals are losing their lives every day. Although adopting a dog from a breeder or rescue may cost more initially, we believe that the short term effects of the investment far outweigh the long term effects of a "great buy", especially if the animal is unknowingly sick or injured.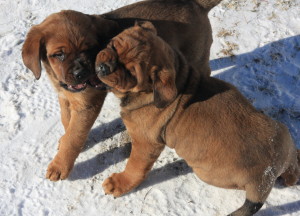 We are thrilled that Oak was with us 3 years longer than initially believed, and even more so that Aero is still with us at 7 years old. Managing Oak and Aero was challenging, at times it felt like a vicious circle of complications. The boys were inactive and overweight because of their sore hips, and their sore hips facilitated weight gain and inactivity. Something needed to be done, so, we started them on a diet and daily regime of pain and anti-inflammatory medications. We truly believe that these changes contributed to the extra time we were given with Oak, and still have with Aero. In the end, we can't help but think that all of their pain would have been avoided if the proper health checks were done before their parents were permitted to breed.