We're Back!
After a brief blogging hiatus, we're back in full swing with some big changes on the horizon. At Keshet, we have always got several projects on the go which keep us busy. We have been working on a number of extra special projects these past few months and 2015 promises big things!
In Recent News:
2014 brought a wonderful mix of return clients and new faces through our doors. We send our sincere thanks to everyone that helped make last
year a success.
In the late summer and fall, we kicked off our canine sport courses with Beginner & Intermediate Agility. They were a great success. We are excited for the prospect of on-going courses and seminars that cover a variety of interests. We ask our fellow dog enthusiasts to post suggestions in the comment section if there are any courses or seminars that you would be interested in attending. Meanwhile, be sure to check our Events page regularly for up-to-date information on both in-house and off-site activities.
Within the next few months, Keshet Kennels/Rescue will be making the switch to an on-line booking system. This will allow us to improve our level of service and better manage all booking requests and inquiries. We look forward to the change and appreciate everyone's understanding and cooperation in this time of transition.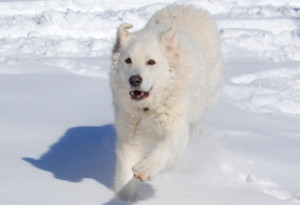 With the cold weather upon us, our facilities are filled with the normal hubbub of activity that lets us know winter has arrived. All of the annual preparations, activities and maintenance that comes with the cold weather are sure to keep us on our toes. Several of our four-legged friends seem to come alive with the arrival of snow and, whether curled up indoors or outside playing, all of the dogs at Keshet are able to take advantage of the opportunities winter presents.